GIT-ette Pencil Box Project
July 2008 - A birthday present Pencil Box made by my younger GIT-ette.
A while back my younger GIT-ette hinted that since I had a birthday coming up, she would like to make me a box but she wasn't sure that having me help make my own birthday present was right. Of course, to me the memory of doing this together is magnificent and the gift is really just an added bonus, so here is a short description of what we did....
The first task was to pick the type of box to make. We looked through various books on boxmaking and she chose a pencil box with a sliding lid. A nice simple project that should be easily done using only hand tools so it's a great choice. I made one of these boxes when I was about 10 but I do remember the teacher sacrificing many electrons in the process.
While looking around for tips on woodworking with kids, I spotted a series of articles by Doug Stowe on the Fine Woodworking site. The articles are grouped as Kid's Woodworking Projects and discuss some tips for woodworking with kids, including some simple projects. One of these projects just happened to be a small box just like she wanted to make so we mostly followed that project plan.
Setting up
Being middle-of-winter in our part of the world, and being a particularly cold example of our normally mild sub-tropical winter, my not-quite enclosed outdoor workshop was not really very inviting so we set up in the downstairs family room, using a thick plastic drop-sheet, a couple of saw horses and some half inch ply.
We grabbed a couple of boards from my left-overs stash. These were Meranti trim no longer required when I moved a doorway. Meranti is easy to work with hand tools but can be a little soft and splintery. This supply was recycled so I'm happy. Meranti usually comes from pillaging old-growth tropical rainforests however recent plantation trials are starting to produce timber in a more sustainable manner.
Time to get started... she actually made 3 boxes using a couple of hours spread over a weekend. One box for me, one for her grandpa and one for herself that she gave to a sick friend. We are both looking forward to making some more....
Marking and cutting the parts
The boards we had selected matched the details in the FWW article fairly closely for width and thickness so it was just a matter of deciding on the length and then marking and cutting. We grabbed a handfull of pencils and decided that the internal length of the box should be a few centimeters (an inch and a bit) longer than the longest pencils we had. So using the article we decided on the lengths of the various parts and started work.
Oh, I just noticed I must have forgotten to get her to point her index finger on the saw. The next batch will be soon so we'll correct that.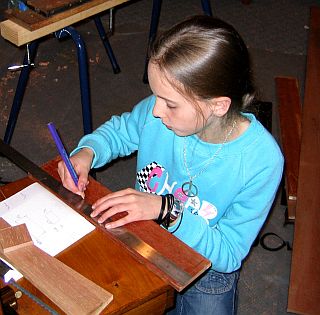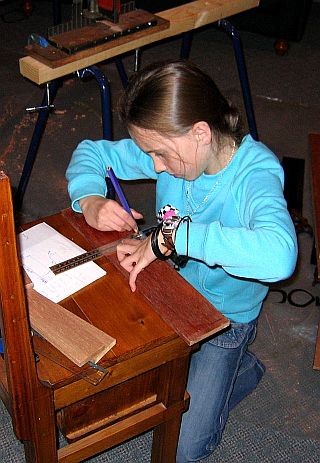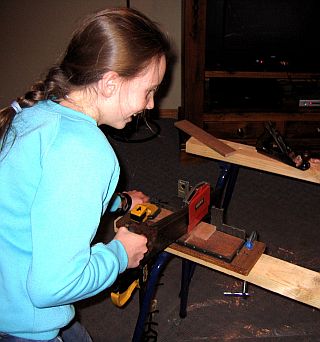 Getting in the groove
This is the first time using my old but newly purchased record 044 plough plane. Actually I didn't even get to use it first. It was a simple matter to select a cutter that was a squidge wider than the thickness of the ply we used for the lid, and to set the fence so the groove is a few millimetres away from the edge of the board, then cut the grooves. Alf's howto helped prepare the way.
See some useful info on this small plough plane at bugbear's page or at the Cornish Workshop page.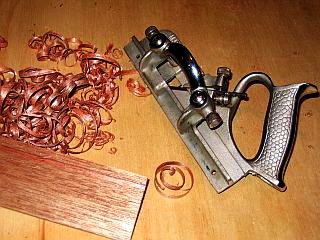 Assembling the box
Just a little bit of work with a Falcon 220 (Stanley copy) block plane to soften the top edges of the sides and we're ready to assemble. Add a little glue and a few small nails and we have a box. Finally a little bit of gentle sanding and we're almost done.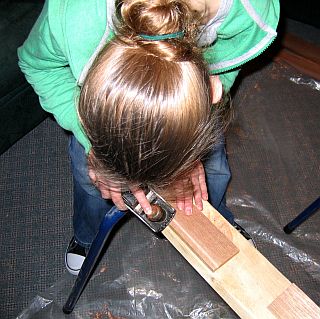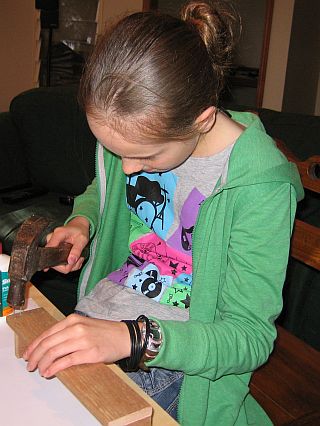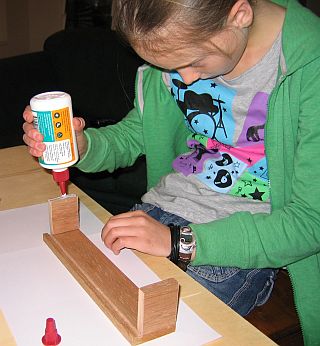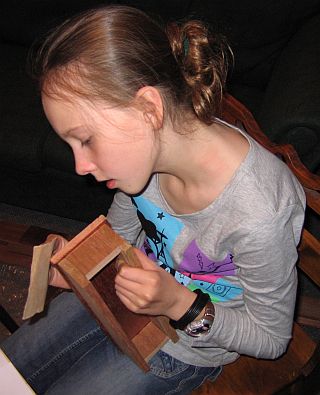 Installing a handle in the lid
The handle is a short length of a small dowel that hangs under the lid just enough to stop the lid from sliding completely out. It's a neat idea.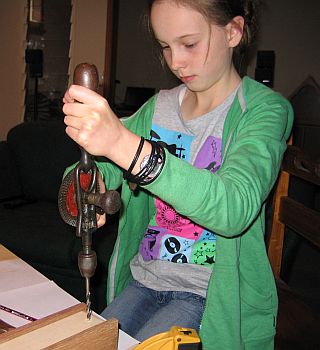 A little bit of shellac and some wax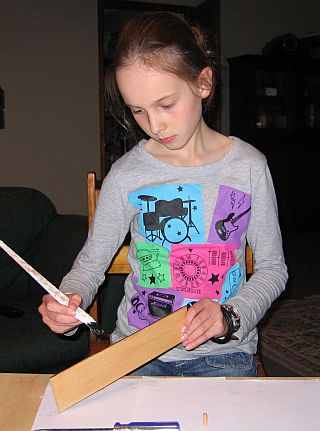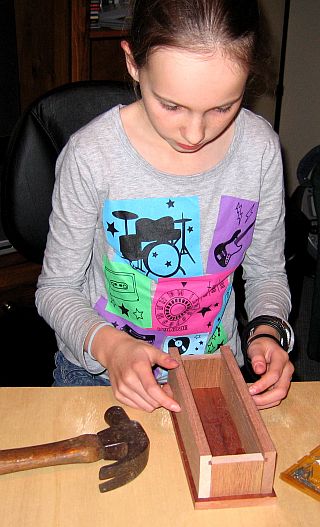 The finished product?
I discovered we didn't take a picture of the final product. Until we get a chance to take a shot, here's a picture the GIT sneaked in while I was upstairs looking for something.